BerlinerHaus @ Pepsi TwistLand Festival
Conservas Braseadas GüeyuMar. From the grill of Abel Álvarez, en Playa de Vega, and his famous restaurant Güeyumar. The first canned grilled sardines. A really unique and gourmet product with thousands of unconditional fans. The design consists in a simple wrapping paper, illustrated with comic-style adventures of sardines that always end up in a sad (and delicious) way: on the grill. For the concept and design we invited Beautiful Buenos Aires to think along with us, and the illustrators were Tute Ostiglia and Amaya Uscola.
PREMIO FUERA DE SERIE DE DISEÑO E INNOVACIÓN 2017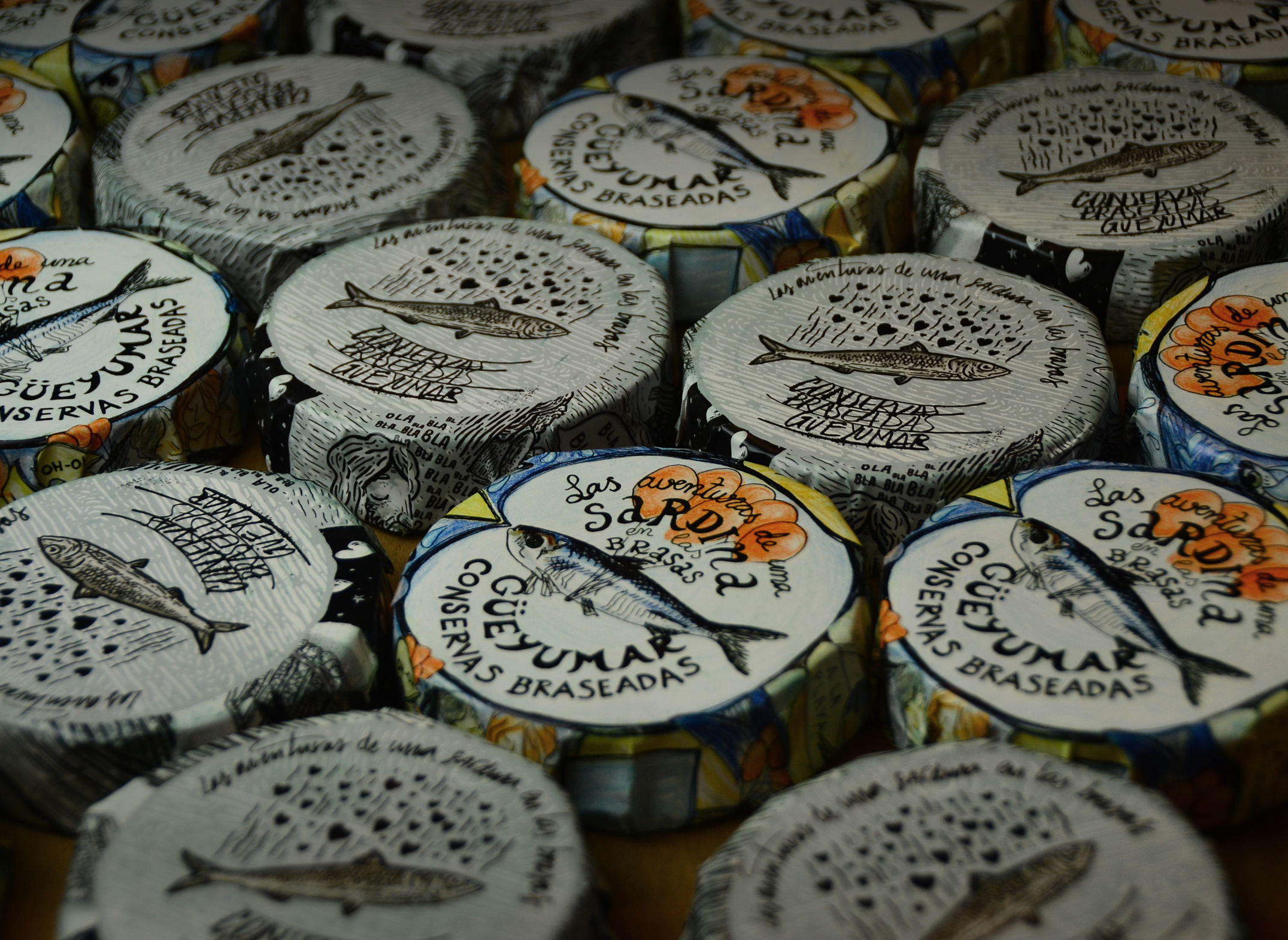 Berrypickers Gin. The trend of spanish Gin market lead us to try and find space into the flavored segment. Since none (as far as we know) of the Strawberry gins is made with real strawberries, the option of bringing some quality to the market was tempting. No artificial flavor nor sugar. Just real strawberries. Right after the launching, Berrypickers won a Silver Medal in The Spirits Bussiness awards in London. Again, we partner The Water Company in this venture.
www.berrypickersgin.com
Simple. Classic Dry Gin. Seventy centilitres of gin made with the ingredients excellent gin is made from. That simple.
"I've ordered a Gin and tonic, not a salad!" Simple Classic Dry Gin, launched last december, supports this strong insight, positioning itself against the trends of the category... In a mature gin market like spanish, gin and tonic reached awesome levels of complexity and over-garnishment... The so called "spanish style" gin and tonic is often something far away from a gin and tonic.
Clear and minimal brand design, basic fonts, color code, shapes and language. Keep it Simple is not only the tagline, but also the guideline. ENTRETANTO partner with The Water Company developed the brand identity, strategy, social media and online conversation from scratch. In the design process, we worked along with our friends at Ladies&Gentlemen.
Domingo. Domingo Vermut is a spanish red vermouth that has taken an unconventional item of inspiration and translated it to the brand's identity and packaging design. created by entretanto brand lab and ladies and gentleman (additionally in collaboration with the water company), the brand mimics the look of typical bar napkins.
"Its name, domingo (which translates to sunday in english), is a tribute to the day par excellence of vermouth."
The authenticity of the design concept is carried through to the smallest of details, including the texture of the label paper and the emulation of misprinting which happens frequently on press.
In this project, ENTRETANTO partners The Water Company and developed the brand identity and strategy from scratch. In the design process, we worked along with our friends at Ladies&Gentlemen, a design studio from Valencia.
Consentido. Aceite de Oliva Virgen Extra. D.O.P. Baena. Desarrollo de Business Model, Producción y Comercialización. CONSENTIDO es una edición limitada de 1000botellas. En preventa online desde antes de su recolección y prensado. Ofreciendo la posibilidad de disfrutar del aceite de Oliva Virgen Extra Recién Exprimido y sin filtrar, privilegio habitualmente sólo al alcance de los productores y su círculo cercano.
Bodegas Canopy. Naming & Brand identity for LOCO, 100% white garnacha. Whoever thought about creating such an incredible white wine from those ancient grapes in Mentrida, Toledo, would've been called crazy. LOCO is a brave naming, and the packaging is just a consequence. The Straight Jacket has been referenced plenty of times among design websites and the brand, who started with a small 1000 bottles production, is now available to the US Market.
ZUPPA. Business model. Concept design, Brand identity and development. Zuppa is an afordable premium fast food chain. We offer a wide range of natural, homemade soups. Launched in summer 2013, profitable since January 2015. ENTRETANTO is also a founding partner.
Castillo de Belarfonso. Naming & Brand ID.
"La joven bodega Canopy, impulsada por Belarmino Fernández y Alfonso Chacón, ya nos tiene acostumbrados a sus vinos personales con nombres ingeniosos y presentaciones irreverentes. Aún así, con su último tinto, Castillo de Belarfonso, vuelve a sorprendernos, combinando con talento humor y placer vinícola."
El nombre del vino es, desde luego, un hallazgo: una broma –respetuosa– hacia los innumerables "castillos" y "châteaux" que inundan el mercado. Y la etiqueta –ilustrada con un castillo hinchable, como los de los niños– remata el ingenio, que nos recuerda la frase de Sancho Panza: "castillos quiero pero no los puedo tener".
More info @ Gastroactitud.com
BSCL / A Global Place for Creative Leaders
The Berlin School is a not-for-profit organization dedicated to research and leadership education for executives in creative industries such as advertising, design, entertainment, interactive, journalism, media and marketing. We are building a unique, global community and invite you to share our vision of a creative CEO in every creative enterprise.
SIGNAL / Unilever Oral Care. Global campaign to increase awareness of Oral Health. Awarded with a Global Effie, this campaign effectively increased brushing and oral health in countries from 4 continents.
This is the story of how the toothpaste brand Signal drove international behaviour change and got kids to adopt good oral health habits, both to the benefit of society as well as the brand itself. Using innovation in both strategy (through the use of fathers as role models) as well as measurement (through the use of sensors in toothbrushes), Pablo & Oliver is a great example of creativity delivering impact.
Both brand and market performance improved as a result of the campaign. The campaign run in more than 15 really diverse countries like France, Nigeria, Morocco, Sri Lanka, India, Indonesia, Vietnam or Chile..
Cornetto Enigma. An ice cream with a soft core. Global launching. Transmedia campaign.
Shandy Cruzcampo. Launching of Shandy Naranja. Relaunching of Mónica Naranjo...
Rexona Sea Salt. Regional launching.
Click Seguros. New Positioning. Product innovation.
TRINA. Relaunch Campaign.
Magnum Temptation. A product focused campaign for the most premium of Unilever Ice Creams.
Visionlab. Successful low cost campaign that became extremely viral for a glasses promotion.
Gonzo. Garnachas felices. Brand ID
MOTHERCARE. Advertising Campaign.
ACTION AGAINST HUNGER. World Water Day.
The Design House. The power of design.
The Design House. The power of packaging design.